NEW Mentorship Membership
Discover the Power of Professional Mentorship

Our NEW Membership offers you the opportunity to tap into the expertise of professionals in your field and take your career to the next level. Our program provides personalized guidance and support to help you reach your goals quickly and effectively. With our Mentorship Membership, you'll gain the insights, skills and confidence to succeed and reach your fullest potential. Join today and unlock your potential!
ENROLL NOW
Picture your goals
Visualizing your goals is an important part of reaching them! Start by taking a few moments to close your eyes and imagine yourself reaching the goal you have in mind. Picture the feeling of accomplishment and pride. Focus on the details, such as the setting, the people around you, and the emotions you feel. Hold onto this image and use it as motivation to work towards your goal.
With a Mentorship Membership you will be able to:
Meet person or video on your schedule every month for 3 months
Weekly check-ins provide you with emotional support as you progress along your journey
You'll have 6 months access to the private group where you have unlimited access to mentors, challenges and more!
If you've taken any classes at Alchemy you know how in depth we can go and how much we can help you.
There's just one problem...
Achieving your goals can be a challenge
Achieving goals can be hard for a variety of reasons, but the most common one is lack of motivation. It can be difficult to stay focused on the end result, and it's easy to become distracted by other things.

Another challenge is that oftentimes, goals require us to step outside of our comfort zones and try new things. This can be intimidating and can lead to procrastination.
Additionally, goals often require a large amount of effort and dedication, and it can be hard to maintain that level of energy over a long period of time.
Finally, life is unpredictable, and unexpected events and circumstances can interfere with our progress. Although achieving goals is a challenge, it's not impossible.
Here's the truth:
It doesn't have to be this way
There are often better solutions to difficult problems that can save you time and effort. Taking a step back or having someone else to reassess the situation and brainstorm creative solutions can help you find a more efficient way to approach the problem. You can't be afraid to think outside the box and ask for help if you need it; you don't have to do everything on your own. We are here to help YOU.
"I want to share some good news bc you're my business mentor. I upgraded my bridal pricing this year and my first bride is about to sign the contract with that price!! Thank you! 🙏🏻"

Betsabe, Master Beauty Alchemist Graduate and Mentee
Introducing
Mentorship Memberships
3+ Months worth of accountability, support, and live one-on-one sessions
Exclusive Workbook
This workbook contains a variety of activities and strategies to help you maximize your productivity and reach your goals. It is designed to help you develop your skills and knowledge in a practical way, and it includes detailed instructions and helpful hints to help you get the most out of each activity.
Weekly Check-ins
Weekly check-ins keep you on track with your goals and stay motivated. By taking the time to let us know your progress each week, we can identify what's going well and what could use some improvement. This way, we can set meaningful goals to keep you moving forward and make progress towards your overall objectives.
Private Community
Our mentors and members have a wealth of knowledge and experience to share. You can create your own content and get feedback from other members and mentors. With our private community, you'll never be lacking in ideas or inspiration. So come join us and be part of something special!
Unlimited Mentor Access
Your lead mentor and others are available to answer any questions you may have regarding your goals and provide creative solutions to challenges you may face. We also provide a variety of resources to help you achieve your goals both in the private community and one-on-one.
Here's how to get started
Move one step closer to your goals
Step 1
Sign up

We are only offering this to 10 lucky people to ensure we can give you all the attention and support you need.
Step 2
Fill-in the Intake Form

We want to know more about you, your business and your goals. This helps us create a custom plan tailored to YOU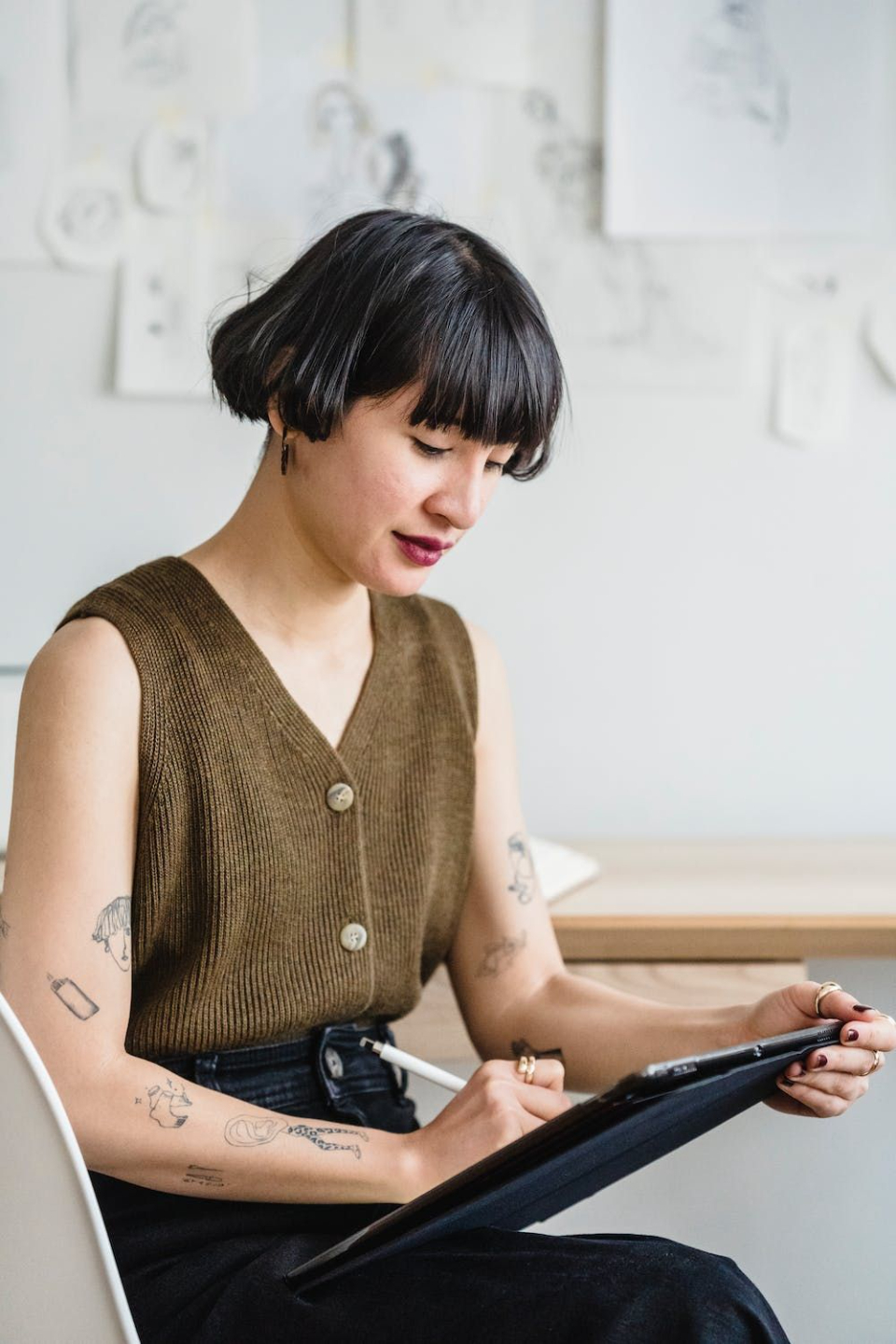 Step 3
Join the Private Community

This is where you get unlimited access to all the mentors, where you can ask ALL your questions, and receive feedback
Step 4
Schedule your One-on-One Session

Every month you will have a live one-on-one session to go further in depth on various topics, get hands-on training, and review your weekly check-ins
How does this sound?
Your life after joining this mentorship...
Joining this mentorship can be a very rewarding experience.
You will have the opportunity to meet like-minded individuals, gain valuable skills and insights, and have access to a wide range of resources to help you succeed.
You will be able to develop your personal and professional goals and make progress towards achieving them.
You will also have the opportunity to network and collaborate with experts in the field, learn new techniques and strategies, and gain invaluable mentorship advice.
Your life after joining this mentorship can be filled with growth, exploration, and success.
Heather catapulted her career:
"Kimm DiCato is an amazing teacher! Not only does she share her unbelievable amount of knowledge, but her delivery is fantastic. She is full of energy, practical experiences and has a wonderful way of giving constructive suggestions without making the student feel intimidated or insecure."
Alfonzo landed their dream job:
"Hollie, I just wanted to say thank you for your mentorship and guidance and to let you know I got the job at MAC! I appreciate you and Kimm so much for all that you've down to help me grow my artistry and just wanted to let you know ❤️."
Ready to
achieve your goal? Choose your 3 month plan:
And there is more!
When you enroll, you'll also get these awesome guides:
Bonus #1
Wellness Guide
Our guide is full of helpful tips and advice for maintaining a healthy lifestyle. It focuses on your mind, body and spirit. We hope you find it useful for creating a healthier, happier you!
Bonus #2
Career Guide
If you're considering a career in the beauty industry, you've come to the right place! This guide is designed to help you determine the best path for your career. So, let's get started and explore the exciting world of beauty careers!
Bonus #3
Kit Guide
To create your perfect beauty kit, you'll need to start by assessing what products you have, and decide what you need to add from this list. We also touch a bit on depotting items. We hope this guide helps you create the perfect beauty kit!
Plus a fast-action bonus
30% Off
If you sign up before February 1st you will not only receive the exclusive mentorship workbook to plan, track and review your progress but you'll get the amazing founder discount of 30% off the program!
ENROLL NOW
Meet your mentors
Hi, we are Kimm & Hollie
In an ever-changing industry, finding a mentorship program that fits your needs might seem like an impossible task. That's where we come in! Enter Alchemy Beauty Academy, which was founded by some of the industry's finest working professionals.
We aren't instagram famous. We are working artists who understand what it takes to make it in this industry and who care about making sure the next generation of artists get the support they need to thrive. With our combined experience of over 25 years, we are thrilled to get to share our expertise and knowledge with you.
But it wasn't always this way...
When we started out as artists in the beauty industry information and mentorship was not easily available. This was a time before YouTube was invented and where most knowledge had to be obtained through books. It was also very common for other artists to not readily want to share their knowledge (if at all).
Through those 25+ years of classes, training, degrees and putting in the time with work experience we grew to a point in our careers where we wanted to give back and make it easier for the next generation - learn from our mistakes as we say!
This is possible for you too.
Your path to your goal
1. Join the Mentorship Membership
Click the enrollment button and follow the checkout steps. In minutes, you'll get an email will your login details.
2. Dive in and take action
Dive into the workbook, join the private community, and take action. Can't start right away? Email us HERE
3. Reach your goal
Finally feel confident to achieve your goal. From Makeup, Hair, and Business or anything Holistic, you'll learn everything you need to succeed.
Our money-back guarantee
Try our program for 30 days, risk-free
If you give it your all, complete the homework, check-ins and schedule your first live session but aren't satisfied - we can part ways. No hard feelings! We will reimburse your pro-rated membership and wish you well!
This is for you if:
You're ready to crush your goals and stop procrastinating

You want 2 mama bears who support and cheer you on

You are willing to commit at least an hour per week to make lifelong changes
This isn't for you if:
You don't want to put in the work

Often flake out on meetings and accountability

You're not ready to get real and honest
Julianne transitioned from retail to freelance:
"So grateful for Alchemy Beauty Academy, you and Hollie. Looking forward to all the opportunities 2023 will bring."
Martin achieved greater understanding:
"Hollie has taught me more about the beauty industry than any other teacher. I've seen improvement in my photography business thanks to Alchemy Beauty Academy."
Are you ready to change your life?

Yes, I'm ready and excited to take on this amazing challenge and to see what results I can achieve in the long run. I'm confident that with dedication and hard work, I can make a positive impact on my life.

ENROLL NOW
Frequently Asked Questions
What topics do you cover?
Where are in-person sessions held?
How long do I have access to the private community?
How will I know if I like my mentor?
How long is my in-person session?
How much time do I need to commit?
How long is my virtual session?
Real talk, my friend
It's your time to shine.
There is no time like the present to take action on your dreams! It is time to trust yourself and have confidence in your abilities. You can do this! Believe in yourself, and you will be able to achieve anything. Put in the hard work and dedication to make it happen, and you will succeed.
Here's what's waiting for you on the other side:
Y

ou'll soon find yourself surrounded by new experiences and possibilities

You'll have custom map and game plan for your future

You'll have someone holding your hand throughout the journey cheering you on
Crystal learned a new skill
and expanded her business:
"Hollie taught very nicely and the material was curated and very tailored for all levels and all questions were received and helped me understand and erased any doubt I had."
Magely crossed off one of her big life goals:
"Also, thank you because I also realized it was one of my goals from the (business) class, and I'm so grateful I got to do it."
Ready to achieve your goal? Choose your 3 Month plan: